So, it's January again and whilst the world is busy detoxing, enrolling in gyms, abstaining from alcohol and trying not to fail at the same New Year's resolutions they made last year, I have decided I want something different for my 2016.
Among the usual New Year wish-list, you will still find "READ MORE" and that old favourite "DO MORE EXERCISE," but this year there's also room for a 'new entry:'
*** MAKE TIME FOR BEING CREATIVE ***
As a creative person, it almost feels silly having to say this out loud but at times, it's so easy to get bogged down with everyday chores, work stress and social commitments that there just doesn't seem to be any time or energy left for the simple pleasures like creating. Then, when a moment arrives, my brain starts analysing all the things I probably could/should be doing and I watch another potentially creative moment slide away.
Since last year, I've been collaborating with 2 exceptionally creative schools in Trento where my students are studying graphics and fashion design and it's so inspiring to see what they come up with. I like to think that being immersed in these creative environments is having a very positive affect on my own desire to design and make and has pushed it back up to the top of my priority list, where it belongs.
I suppose the lesson learned is that we can all say we don't have time to do things but it's not the time we lack really, it's the WILL to do something about it. After all, WHERE THERE'S A WILL, THERE'S A WAY did not become a cliché for nothing…
(NOTE TO SELF: MUST NOT GIVE IN TO LOGICAL, RATIONAL BRAIN FUNCTION; MUST START LISTENING TO CREATIVE INNER-VOICE…)
So, in light of this creative awakening, I wanted to share publicly my resolve to make more time for designing, making, coming up with ideas and then finding ways to express them.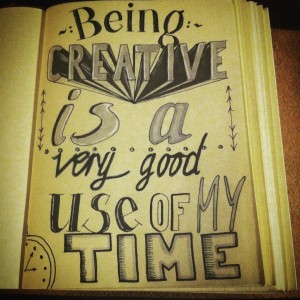 As with anything intimidating, it's about taking those baby steps. First one? The quick sketchbook moment above, inspired by the typographic work of Tobias Hall (see his website here) who is currently, firmly on my designer radar. This was then shortly followed by step 2, signing up for email alerts from the very inspiring paintedsummers.com (relaunching soon). Everything I read rang true so hopefully it will be another push in the right direction.
Next step? That one's obvious – get my butt into gear and make stuff!!
Happy, happy 2016 everyone and may it be overflowing with creative moments for us all!!
Zoe x